Events
Venus Conducts Hospital CME Activity on World Hand Hygiene Day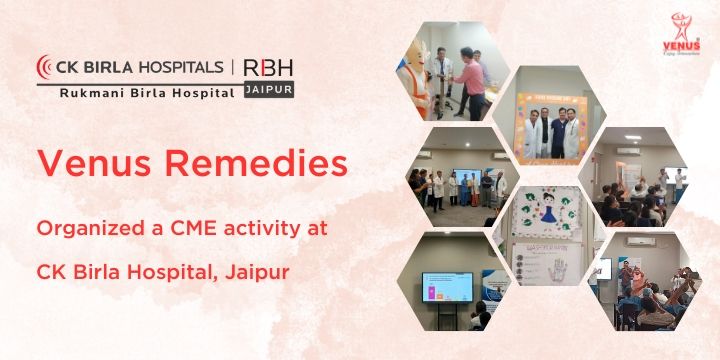 Venus, an organization dedicated to patient welfare, showcased its commitment to promoting hand hygiene in healthcare settings through a recent Continuing Medical Education (CME) activity. Held on 5th May 2023 at CK Birla Hospital in Jaipur, the event proved to be a resounding success in raising awareness about the criticality of hand hygiene compliance among healthcare professionals.
In collaboration with the Head of Critical Care Services, Venus's Specialized Team spearheaded the initiative, leveraging its expertise and dedication to foster a culture of cleanliness and safety in hospitals. The CME activity served as a platform to educate medical practitioners on the significant role hand hygiene plays in preventing the spread of infections within healthcare facilities.
During the event, personnel from Venus shared the latest scientific insights and research findings on hand hygiene compliance. They emphasized the importance of implementing robust hand hygiene protocols and demonstrated effective techniques for healthcare professionals to follow. The CME activity also incorporated interactive sessions and practical demonstrations to encourage active participation and engagement among attendees.
By organizing such CME activities, Venus aims to establish itself as a leading proponent of scientific knowledge and research in the healthcare industry. The initiative not only strengthens the organization's reputation but also showcases its unwavering commitment to patient safety and well-being.
The hospital staff and participants praised the CME activity for its informative content and practical approach.
In an effort to promote patient safety and reduce the spread of infections in healthcare settings, Venus also assisted various other tertiary care hospitals in an awareness campaign on the implementation of proper hand hygiene practices among healthcare professionals.
Venus remains committed to organizing similar initiatives in the future, aiming to collaborate with more healthcare institutions and disseminate valuable information that promotes patient safety and well-being. As a research-based organization, Venus strives to make a lasting impact in the field of healthcare by empowering healthcare professionals and raising awareness about vital issues like hand hygiene compliance.
World Hand Hygiene Day is an annual global observance held on May 5th to raise awareness about the importance of hand hygiene in healthcare and community settings. The day serves as a platform to promote and reinforce the practice of proper hand hygiene to prevent the spread of infections and improve overall public health.
Hand hygiene is a simple yet powerful action that can save lives. By cleaning our hands regularly with soap and water or using alcohol-based hand sanitizers, we can significantly reduce the transmission of harmful germs, including bacteria, viruses, and other pathogens. Proper hand hygiene is crucial not only for healthcare professionals but also for individuals in their daily lives.
World Hand Hygiene Day brings together healthcare organizations, professionals, policymakers, and the public to advocate for effective hand hygiene practices. The day emphasizes the importance of education, training, and continuous improvement in hand hygiene compliance. It serves as a reminder to healthcare facilities and communities to implement and maintain robust hand hygiene protocols to protect patients, healthcare workers, and the general population.
Through awareness campaigns, educational programs, and events, World Hand Hygiene Day aims to empower individuals to take responsibility for their hand hygiene and encourage healthcare institutions to prioritize and invest in hand hygiene practices. By highlighting the significance of hand hygiene, this global initiative strives to reduce healthcare-associated infections, improve patient outcomes, and create healthier communities worldwide.