Accreditations & Approvals
Venus Remedies' Oncology Portfolio Extends to Ukraine, Empowering the Fight Against Cancer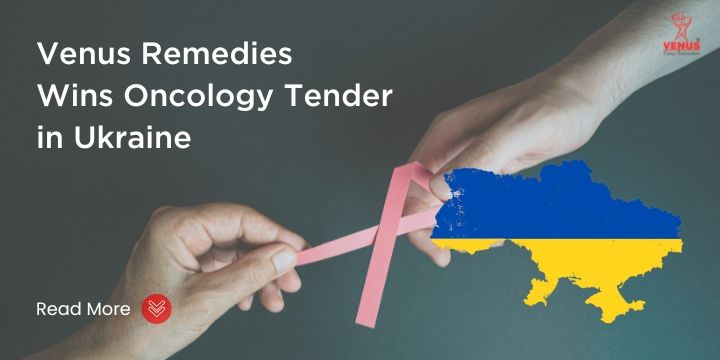 Thrilled to share a remarkable achievement by Venus Remedies, as it proudly expands its global footprint in the field of oncology. With a recent contract win in Ukraine, Venus Remedies has taken a significant step towards combating cancer in a nation ravaged by war. This momentous occasion signifies our commitment to making a difference in the lives of patients worldwide.
The organization understands the profound impact that cancer has on individuals, families, and communities. As a pioneering pharmaceutical company dedicated to oncology, our mission is to provide advanced and affordable anti-cancer products that empower healthcare providers and patients in their fight against this devastating disease.
The competitive tender process, organized by the Ukrainian government, showcased the increasing demand for oncology products in the country. Venus Remedies emerged as the deserving bidder, earning the privilege of supplying much-needed oncology medications to Ukraine. This achievement not only demonstrates the excellence of our products but also serves as a testament to our unwavering commitment to improving global healthcare.
The story of Venus' contract win is both inspiring and encouraging. It exemplifies the power of perseverance, innovation, and dedication in expanding our global reach and making a positive impact on cancer treatment worldwide. By venturing into Ukraine, the objective is to provide hope and healing to those affected by cancer in a war-torn country where the healthcare supply has faced immense challenges.
This expansion into Ukraine marks a significant milestone for our organization, reintroducing us to one of the largest market opportunities in the world. We are determined to bring our expertise and resources to bear, working hand in hand with healthcare professionals in Ukraine to enhance patient outcomes and improve access to life-saving treatments.
As we embark on this new chapter, Venus reaffirms its commitment to the research, development, and manufacturing of high-quality oncology products. Our portfolio encompasses a wide range of innovative therapies, designed to address the diverse needs of cancer patients across different nations.
We firmly believe that every patient, regardless of their geographical location or socio-economic background, deserves the best possible chance in their battle against cancer. By extending our oncology portfolio to Ukraine, Venus aims to instil hope and healing in the hearts of patients, their families, and the entire healthcare community.
We invite you to join us on this incredible journey as we strive to make a meaningful difference in the lives of those affected by cancer. Together, let us create a world where the fight against cancer knows no boundaries.