Accreditations & Approvals
Expanding Our Oncology Wing: Four Major Market Approvals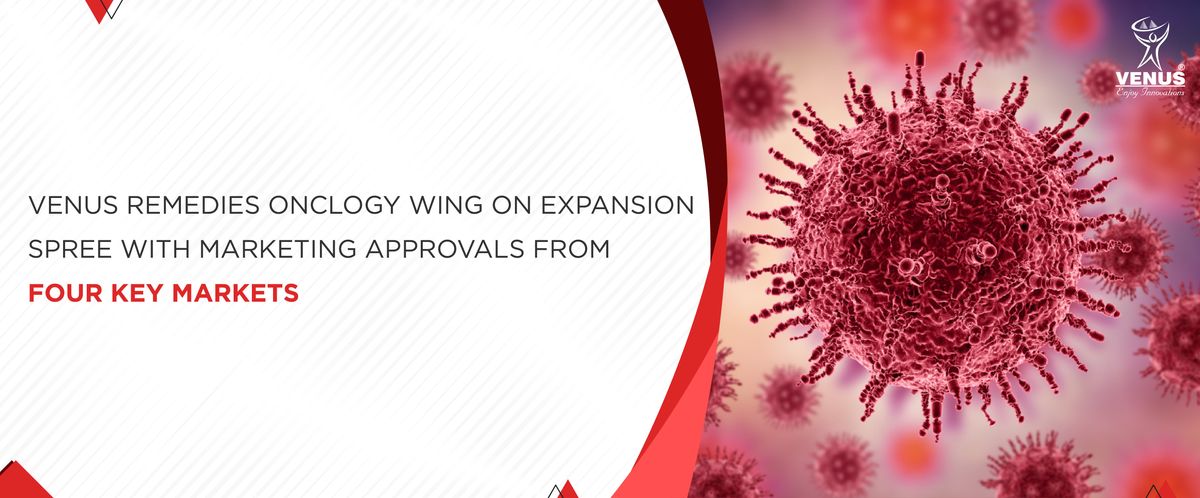 We're thrilled to announce that Venus Remedies has achieved a significant milestone in our commitment to providing top-tier oncology solutions worldwide.
🔹 Key Highlights:
Marketing Approvals from Four Key Markets: We have secured marketing approvals for our chemotherapy drugs from Oman, Malaysia, Bosnia, and Trinidad & Tobago.
These approvals mark our expanding footprint in global markets, underlining the trust and recognition our products continue to garner on the international stage.
🔹 In The News:
Various reputed media outlets have acknowledged our recent accomplishments. Here are some notable mentions:
🔹 Our Commitment: At Venus Remedies, we continue our dedication to developing innovative solutions for cancer care. These recent marketing approvals validate our relentless pursuit of excellence and our promise to deliver the best to patients around the world.
🔍 Understanding Oncology: The Fight Against Cancer
What is Oncology?
Oncology is the branch of medicine that deals with the prevention, diagnosis, treatment, and care of cancer. Cancer arises when cells in the body start to grow uncontrollably, often forming tumors which can spread to other parts of the body. Oncologists are medical professionals specializing in treating patients with cancer.
Key Areas of Oncology:
Medical Oncology: Concerned with the treatment of cancer using chemotherapy, hormone therapy, targeted therapy, and immunotherapy.
Surgical Oncology: Focuses on the surgical removal of tumors and cancerous tissue.
Radiation Oncology: Uses targeted radiation therapy to kill or shrink cancer cells.
Venus Remedies: Pioneering Change in Oncology Care
Venus Remedies, driven by innovation and dedication, has been at the forefront of addressing cancer care challenges. Our contributions to the field of oncology include:
State-of-the-Art Research: We are continually investing in research and development to discover groundbreaking treatments and drug formulations that address various types of cancers effectively.
Global Reach: Our chemotherapy drugs have recently received marketing approvals from key international markets, highlighting the trust and credibility we've built on a global stage.
Patient-Centric Approach: Recognizing that each cancer patient's journey is unique, we prioritize developing therapies that not only target the disease but also consider the patient's overall well-being and quality of life.
Collaboration and Partnerships: At Venus Remedies, we believe in the power of collaboration. By partnering with global research institutions and pharmaceutical entities, we aim to accelerate the development of next-generation oncology solutions.