Engagements
Venus Remedies Limited Collaborates with KGMU Neurosurgery Department for Groundbreaking Medical Education Program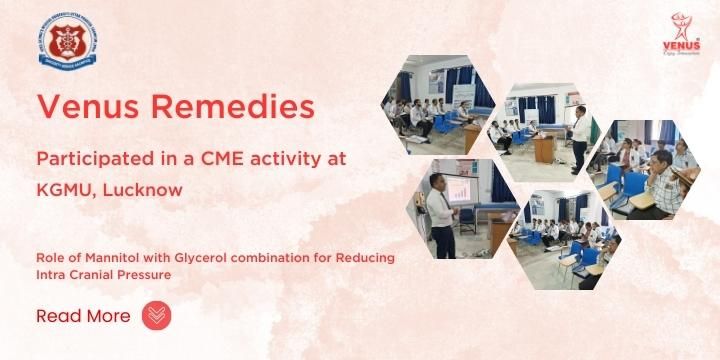 In a significant stride towards advancing medical knowledge and fostering collaboration, Venus Remedies Limited recently participated in a Continuing Medical Education (CME) program at the renowned King George's Medical University (KGMU) in Lucknow. The event, organized in conjunction with the esteemed Neurosurgery Department, aimed to shed light on the vital role of the Mannitol with Glycerol combination in reducing intracranial pressure (ICP).
Under the guidance of Dr. B.K. Ojha, the Head of Neurosurgery at KGMU, the scientific session proved to be an enlightening experience for all attendees. Dr. Ankur Bajaj, a distinguished expert in the field, presented an in-depth analysis of the application of Mannitol with Glycerol therapy as an effective treatment for ICP. The presentation captivated the audience, which included respected neurosurgeons like Dr. Kshitij Shrivastva and several others from KGMU, Lucknow.
The event not only showcased Venus' commitment to advancing medical science but also strengthened its image among neurosurgeons. By collaborating with esteemed institutions like KGMU, the company demonstrates its dedication to fostering partnerships that lead to innovative healthcare solutions.
The scientific session created a platform for the exchange of knowledge and expertise among neurosurgeons, facilitating the establishment of the Mannitol + Glycerol therapy of Neurotol as a preferred treatment choice for ICP. Through this collaborative effort, the organization aims to enhance patient outcomes and provide neurosurgeons with an effective solution to address the challenges associated with ICP.
Venus Remedies Limited's participation in the CME program at KGMU, Lucknow signifies its ongoing commitment to advancing medical education and fostering partnerships with healthcare professionals. By actively engaging in such initiatives, the company continues to reinforce its position as a leader in the pharmaceutical industry and a trusted partner in the pursuit of improving patient care and treatment outcomes.