Accreditations & Approvals
Venus Remedies Receives Coveted Ukrainian GMP Approval for Carbapenem & Oncology Parenteral Facilities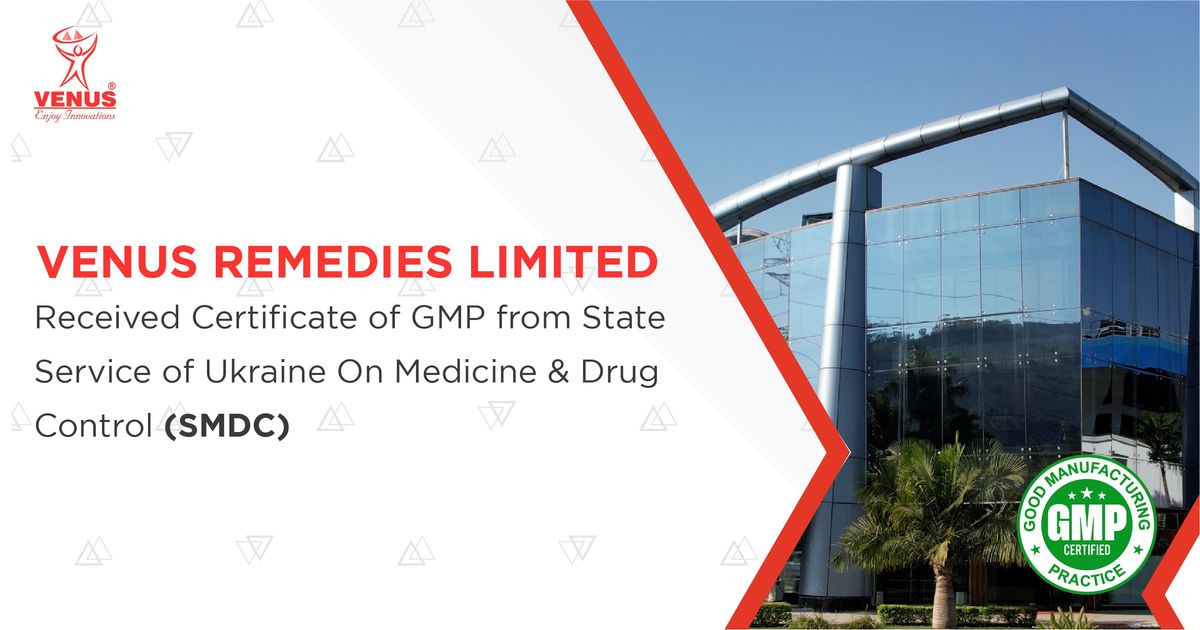 Venus Remedies, a leading pharmaceutical company dedicated to improving global healthcare, has achieved yet another milestone. We have recently received the prestigious Good Manufacturing Practice (GMP) approval from Ukraine for our state-of-the-art Carbapenem and Oncology Parenteral facilities at our unit in Baddi.
The GMP certification is a testament to our commitment to maintaining the highest quality standards in our manufacturing processes and ensuring the safety and efficacy of our products. It is a recognition of our relentless pursuit of excellence and adherence to international regulatory requirements.
The approval from the Ukrainian authorities is a significant achievement for Venus Remedies, as it opens up new avenues for expanding our reach and catering to the healthcare needs of patients in Ukraine. This development will further strengthen our global presence and reinforce our position as a trusted provider of high-quality pharmaceuticals.
Carbapenems are a class of antibiotics known for their effectiveness against a wide range of serious infections. With the GMP approval for our Carbapenem facility, we are well-positioned to meet the growing demand for these critical medicines in Ukraine and contribute to improving patient outcomes.
Furthermore, the GMP approval for our Oncology Parenteral facility is a testament to our commitment to providing advanced and reliable treatments for cancer patients. This facility is equipped with state-of-the-art infrastructure and adheres to stringent quality control measures, ensuring the production of safe and efficacious oncology medications.
At Venus Remedies, we continuously invest in cutting-edge technology, research, and development to deliver innovative pharmaceutical solutions. Our dedicated team of experts works tirelessly to maintain the highest quality standards throughout the manufacturing process. This achievement would not have been possible without their unwavering dedication and commitment to excellence.
We would like to extend our gratitude to the regulatory authorities in Ukraine for their thorough evaluation of our facilities and for granting us the GMP approval. We also express our heartfelt appreciation to our customers and stakeholders for their continued support and trust in Venus Remedies.
As we move forward, we remain committed to our mission of making a positive impact on global healthcare and improving the lives of patients worldwide. The Ukrainian GMP approval is a significant step towards realizing this vision, and we look forward to further expanding our presence in Ukraine and other international markets.
Congratulations to the entire Venus Remedies team for this remarkable achievement!
Stay tuned for more updates on our journey towards excellence in healthcare.